Green and White Hazard PermaRoute Now Available
Due to popular demand, green and white hazard PermaRoute has now been approved for general manufacture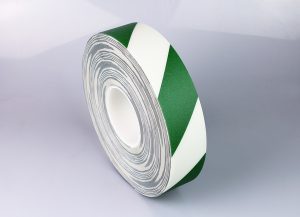 It has now joined our ever-growing range of colour options for PermaRoute.
Various areas can now benefit from green and white hazard PermaRoute for demarcation, such as:
First aid stations
Treatment areas
Fire Exits
Breathing apparatus
The green thoroughly marking an area to show its intended purpose, and the hazard chevron pattern depicting caution.
Green and white hazard PermaRoute is now available wholesale in full-width log format, with rolls possible from 15mm right up to 1168mm at a length of 30 metres. With smaller turnaround times than previous, this will help our customers receive their product to mark their work areas to improve workplace safety and workflow quicker.
You can obtain samples of green and white hazard PermaRoute by filling out the sample request form.